The effects of climate change on grass growth throughout the year have been described as follows by the CLIMFOUREL program:
An advance in plant phenology in the spring and a shortening of the production period
An increase in the biomass available in the spring, to be harvested in a shorter time
A growth of natural meadows stopped in summer over a period which can reach several weeks
An autumn regrowth which can be important
To summarize these changes, we speak of an increase in the seasonality of production.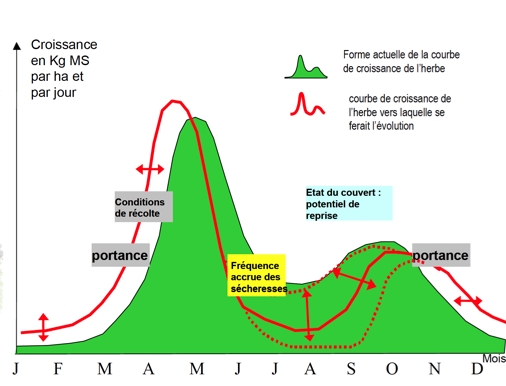 Figure : Daily net growth (kg DM / ha / d) over the year of a natural meadow, subject to the climate of the 2000s (green) and 2050 (red)
This CLIMFOUREL program, the objective of which was to support the adaptation of peri-Mediterranean farming systems to climate change and vagaries, also modeled forage production for a cultivated meadow. Overall over the year, the production drop was 11% between 1980 and 2008.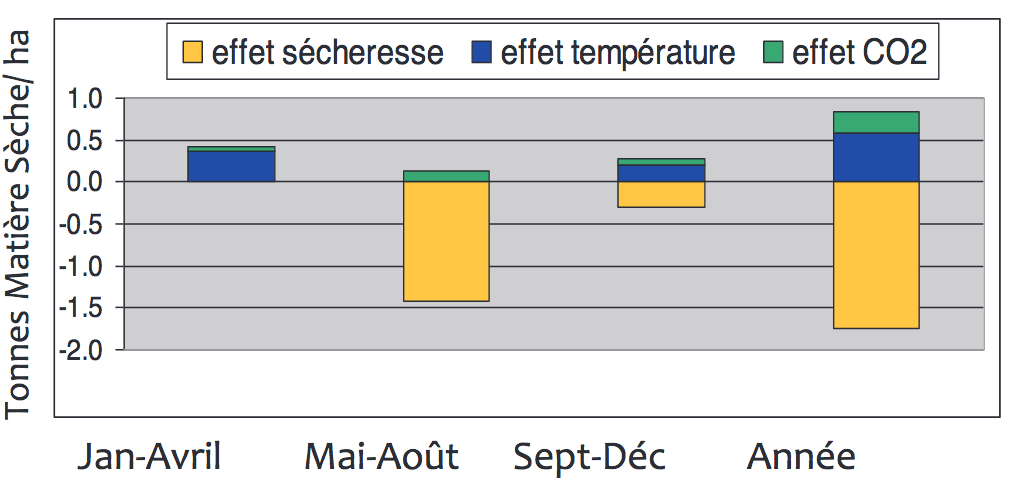 Figure: Trend in the production of an average peri-Mediterranean meadow from 1980 to 2008
This modeling confirms the different effects of climate change: grows a little stronger in spring, sharp drop in summer production, and in autumn, the effects of drought are offset by the effects of increased CO2 and temperature.
Source: Climfourel