Variety bouquet
In recent communications on common wheat, Arvalis offers some keys to composing a varietal "bouquet", based on observations from the recent past. The first key concerns the constraints linked to climatic accidents: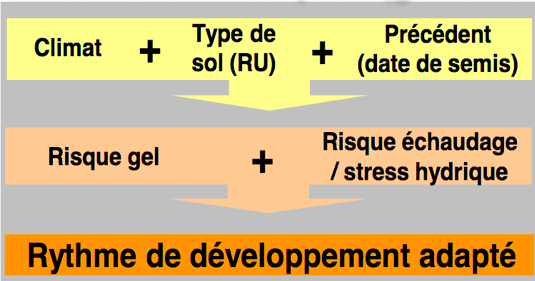 For these climate-related constraints, Arvalis recommends:
A late variety with a long cycle which increases the potential by taking advantage of the climatic offer when the environment allows
In early sowing, a late-flowering variety (photosensitive) which reduces the risk of frost on the cob
In difficult environments, earliness to ear helps avoid scalding conditions at the end of the cycle
Diversify the precociousness of its wheat sole to reduce the impact of climatic hazards
The second key concerns the constraints linked to the control of bio-aggressors. Linked to the climate, the plot or the cropping system, certain pests are difficult to control with phytosanitary products, it is better to favor varietal resistance.
Faced with all these parameters, ARVALIS recommends diversifying the varieties sown to spread the risks:

Growing 3 to 4 varieties makes it possible to compensate for part of the variability linked to climatic hazards and disease pressures.

Within a sole, it remains necessary to have several different precocity levels to dodge occasional accidents but also take advantage of the cycle time when the climatic supply of the year allows.
Zoom on the INRAE PHENOME project: an investment for the future to build the varieties of the future.

The varieties of agriculture of the future, more resource efficient, less polluting and able to resist or even take advantage of the current climate change must be developed now. To support this effort, INRA, in partnership with several technical institutes, and strongly supported by the partners in seed production, proposed to set up a network of phenotyping platforms, that is say measurement, at high-speed, of variables directly or indirectly related to plant performance.

The PHENOME project was thus set up (in 2014 and for a period of 8 years) with the aim of supporting the development of a set of national platforms, as well as methodological developments in terms of automation of measurements, of sensoring and management of masses of data. This network, supported and coordinated by an IBIP researcher (INRA-LEPSE), includes, in addition to our M3P platform, sites under controlled (greenhouse), semi-controlled conditions (rain shelter and / or CO2 content) and instrumented fields, in contrasting climates. He notably supports AI projects focused on species (corn, wheat, rapeseed, peas, sunflower).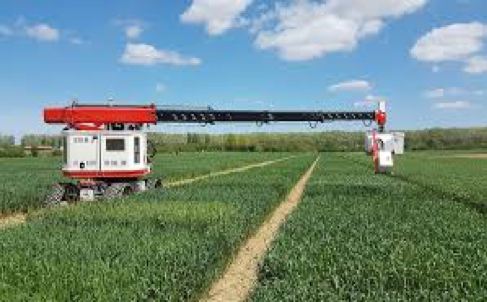 Figure: "Phenomobile" agricultural robot for high-speed phenotyping
Manual AgriAdapt : 5 case studies of arable crops farms in Spain, Germany, France and Estonia.